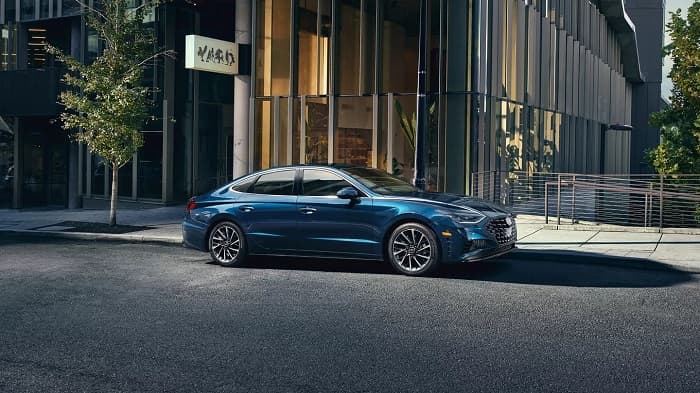 The Hyundai Sonata Sedan in Hazelwood, serving St Louis Hyundai deals.

Are you having a hard time finding the best car for you? If so, come check out the new Hyundai Sonata for sale near you. This vehicle has everything you would expect to find in a high-end luxury car, and more. From inside out, this car exudes confidence with a bold sophisticated design. Enhanced with an exhilarating 4-Cylinder engine, this car pushes the limit for midsized sedans. All the while, taking your performance  to the next level. From the moment you step inside of the new Hyundai Sonata, you will instantly realize  that this car is everything , but typical.  All around, this car elevates your driving experience with today's most advanced technology. And it  delivers an extra peace of mind  today's most advanced safety and security features. You are going to love driving this Hyundai vehicle. And, if your still not satisfied, you can always check out our advanced level Hyundai Sonata model trims. We have everything you  could imagine including the Hyundai Sonata SE, ECO, SEL, Limited, Sport 2.0T and the Limited 2.0T. Plus, we also offer incredible Hyundai Sonata Lease deals, and finance options. Sound's incredible right? If so, come schedule your free test today at our local Hyundai dealership near you.

If you are looking for a great deal on a new Hyundai Sonata in Hazelwood get ready... St Louis Hyundai Sonata customers be ready as well, Napleton Hyundai of Hazelwood has amazing deals on new and used Hyundai vehicles. Start saving today St Louis Hyundai customers, Hazelwood Hyundai customers and surround areas. Areas such as St Charles with customers looking for a Hyundai sedan! The Hyundai Sonata is a vehicle you will not regret test driving!

If you act now, you can be one of the first few people to get your hands on  an amazing Hyundai Sonata deal.  But you must act now! The time is ticking. And we don't want you to miss your chance to get your hands on this amazing new vehicle. 

If you want to save time, fill out the free online form  above. It's quick. It's free. It's easy. Plus, there are no obligations. All you have to do is sign up today. So, what are you waiting for?

Fill out the free online form today.

If you want to learn more about this vehicle, check out  our Hyundai Sonata  review below.